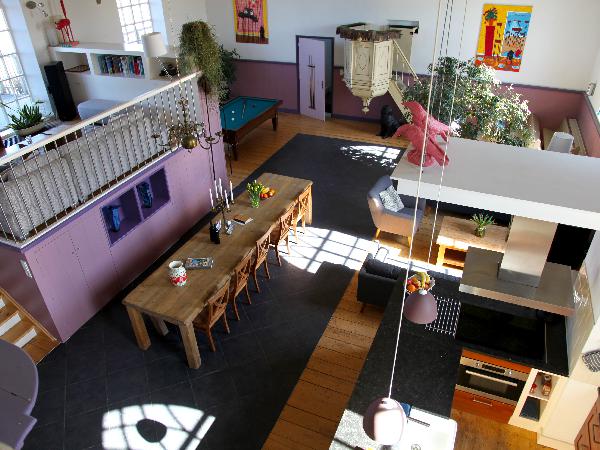 An old wine table invites you to eat together, read a newspaper or play games together.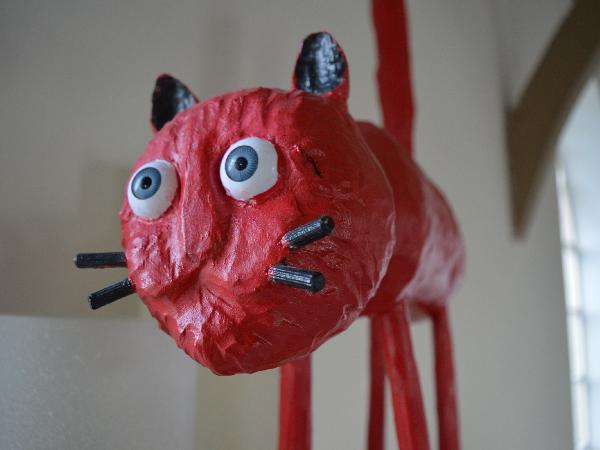 A holiday home with colorful modern art.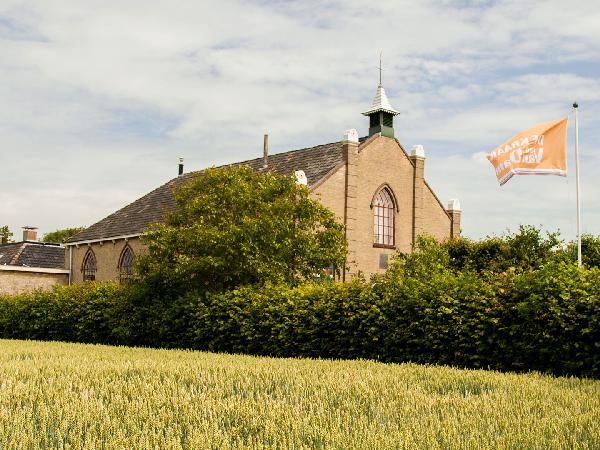 a holiday house in a little church in Friesland
This little Frisian village church has been changed to a stylish and comfortable holiday house. With five bedrooms, three bathrooms and a large livingroom this house is the perfect stay for a group up to 13 adults (from 1-04-2019).

Holiday home De Kraak van Van Dam is nice and spacious, modern and comfortable.
Where else do you sleep next to the organ with a view on the pulpit? Where else do colorful paintings of Frisian expressionists surround the green cloth of a splendid billiards table?

A wide garden with a terrace, little chickens and old fruit trees belongs to the church. The large garden has several terraces: some in the sun, others in the shade.
The sea and lovely historical towns like Franker, Harlingen and Sneek are nearby.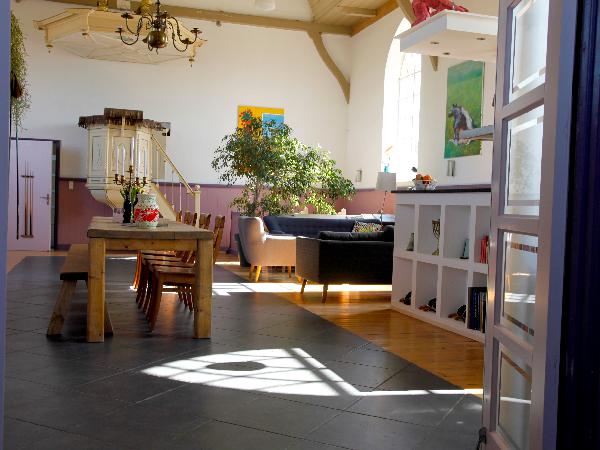 The church hall
The living area in De Kraak is much bigger than in most holiday residences. Although, the church has many cosy corners. The kitchen is situated two steps higher than the rest of the church hall. The inside terrace is even higher: on window height you can enjoy the view on the terp and the village.
On the ground floor there is also a sitting area. A large reading table offers enough space for 13 persons. And finally, there is the billiards corner and the corner with the church benches with nice art books.

We don't need to mention the ceiling, the pulpit and the organ are eye catchers.

Click here for the map.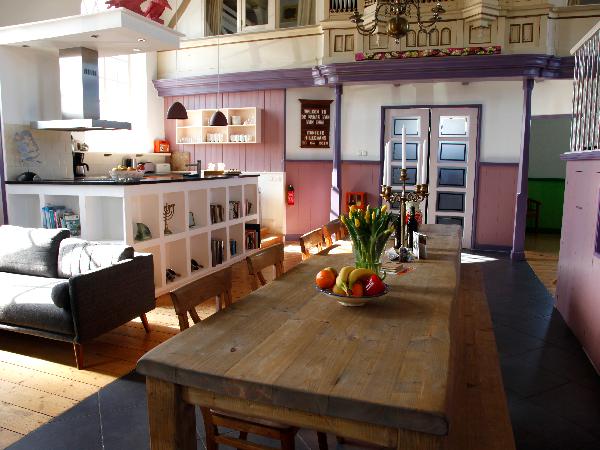 The kitchen
The kitchen has an ashlars sink from Belgium and is fully arranged. The furnishing contains a fridge, a freezer, a dishwasher and an oven/microwave. Who loves to cook can use a wide selection of kitchen equipment, casseroles and sauce and stew pans. Basic herbs, oils and salt are always present.

In the holiday house you also find a washing machine and a dryer.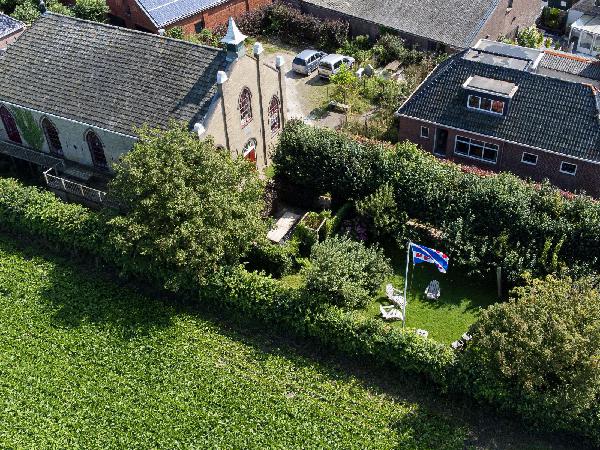 Large garden
At our vacation cottage De Kraak van Van Dam you have a large garden with fruit trees, berry bushes, chickens and a lawn. The garden is shielded by a hedge of red beech and linden trees. This keeps you out of the wind and out of sight.
From our raised terrace you have a view over the old village and in the evening you can enjoy the sunset. In the garden is a large terrace with a large dining table with a stone bbq. On the lawn are garden chairs and you can relax in hammocks.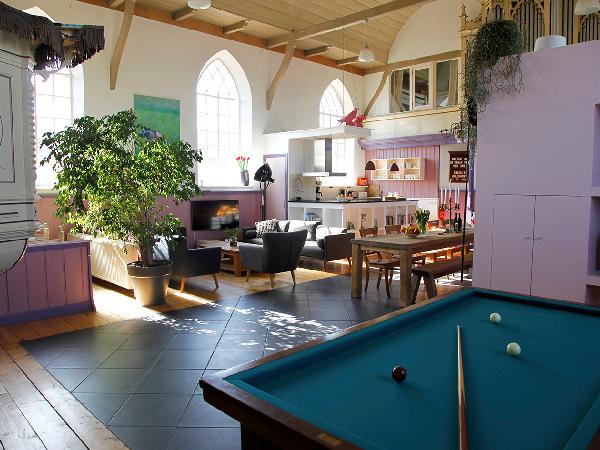 Books and games
The shelves are full of beautiful books. Beautiful art books are available on the old church benches. There also are books for children. Snuggle up with it in one of the cozy corners that De Kraak has.
Want to play together? Then get out the dice, the chess pieces or the Settlers of Catan. Board games abound. And: in De Kraak you will also find a billiard corner with a classic, professional billiards table with balls and cues.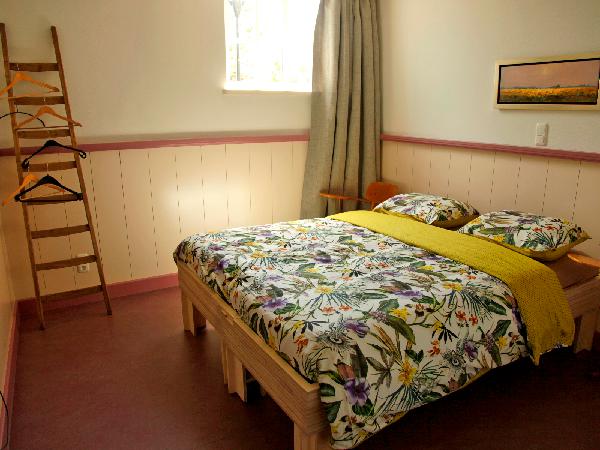 Sleep in a church
Never imagined that during holidays, you could lay your head to rest in an old village church? It is possible in the holiday home in Oosterbierum. From April 1.th 2019 the church – 'De Kraak van Van Dam' – has five bedrooms en offers place to a maximum of 13 guests.
In each room you will find a double bed. In two bedrooms you also find a bunk bed. For the little ones we have campground beds, baby chairs and a baby bath.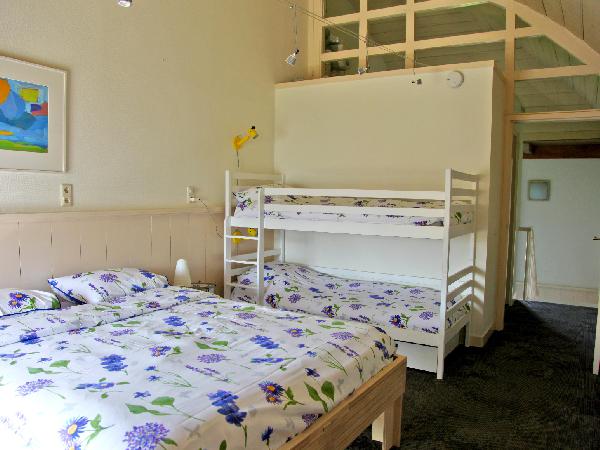 Bed linen and towels
We think the preparation of a stay in De Kraak should not include dragging bed linen. So your beds will be made at your arrival. In the church you will find enough towels and the typical Dutch wash clothes.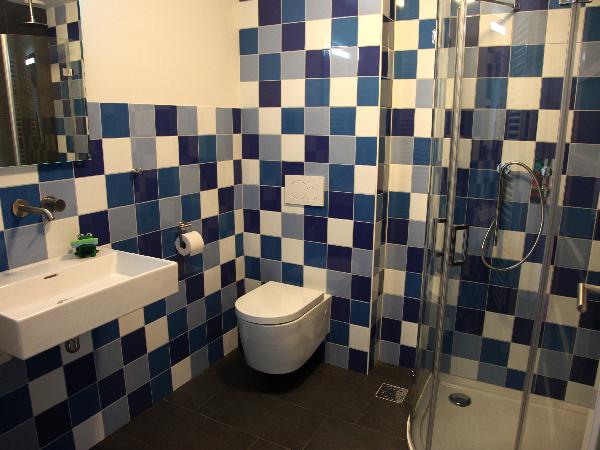 Bathroom and toilet
Here you will count three sizable bathrooms. The three bedrooms at the front of the church have a bathroom and a separate toilet. The two bathrooms in the two rear bedrooms have a shower, sink and toilet.
A washing machine and dryer are also available in the church.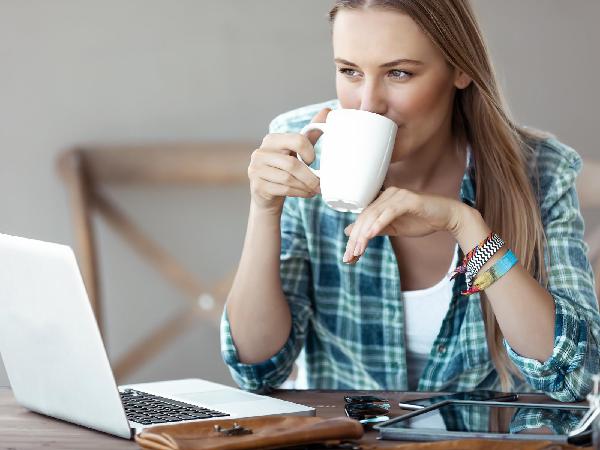 Wifi in the church
If you come here to enjoy the peace and quiet, it is best to leave your telephone and laptop at home. Would you like to work in the Kraak? Then you will have an excellent WiFi connection. There are access points scattered throughout the church, with which you can easily mail, hold meetings and watch video anywhere. When you use a VPN, we are happy to open the right ports for you when necessary.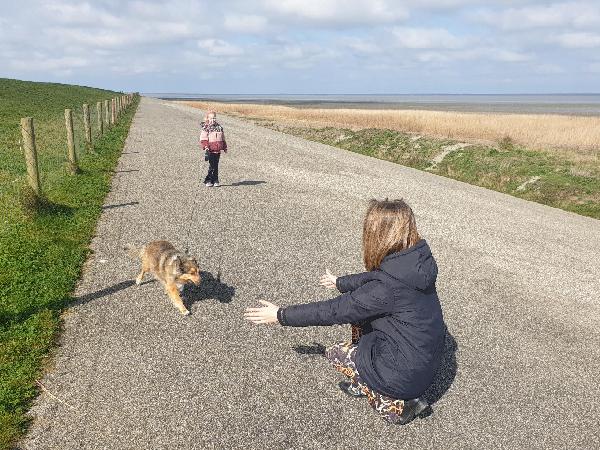 Dog welcome
In and around our vacation home there is also room for dogs. Sniffing around the farmland, taking long walks along the fields. Conditions are that your four-legged friend is clean and house-trained and does not damage the interior or inventory. Beds and couches are off limits to Bello; so bring a mat, basket or bench.
If you want to bring a dog, please notify us in advance. A second dog is also allowed in consultation. The costs for bringing a dog are 40 euros per stay.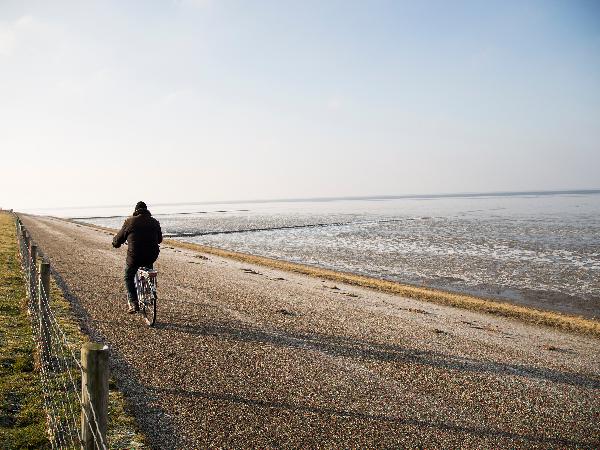 Bicycles
There are 13 decent bicycles waiting for you under the outside terrace of De Kraak. You can cycle to the Wadden Sea or the vast fields around the village in a few minutes. The lively harbor town of Harlingen and the old university town of Franeker are also easily accessible by bike!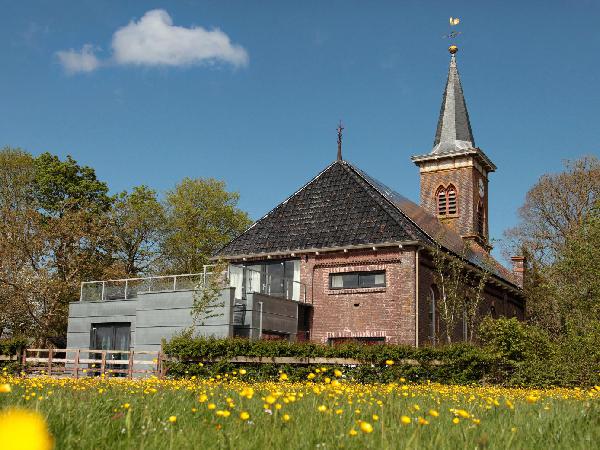 A good alternative
Looking for a smaller vacation home or De Kraak is not available? You can also spend your vacation in our little church 'ievers yn Fryslân'. ievers is as comfortable as De Kraak, but for groups up to 10 people.
Our vacation church ievers also has good facilities for people with disabilities. The church is barrier-free, has a miva bathroom and is equipped with an elevator. More information can be found on ievers.nl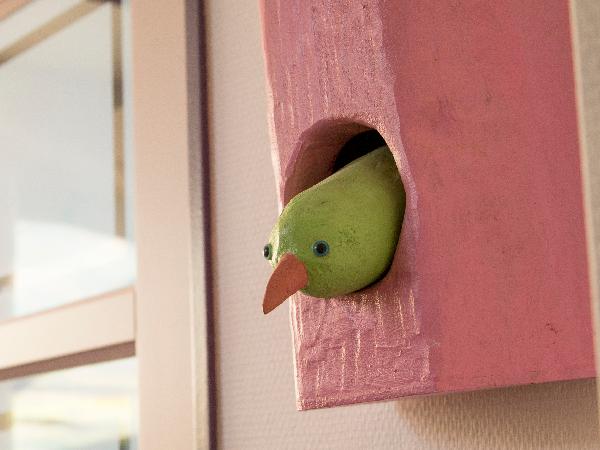 A bedroom with a double bed and a bunk bed.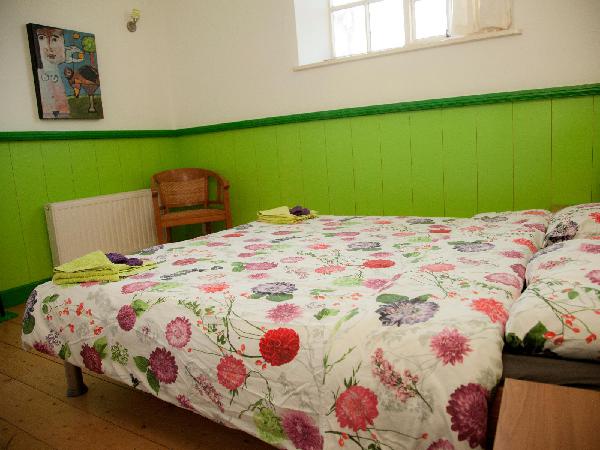 One of the bedrooms with a double bed.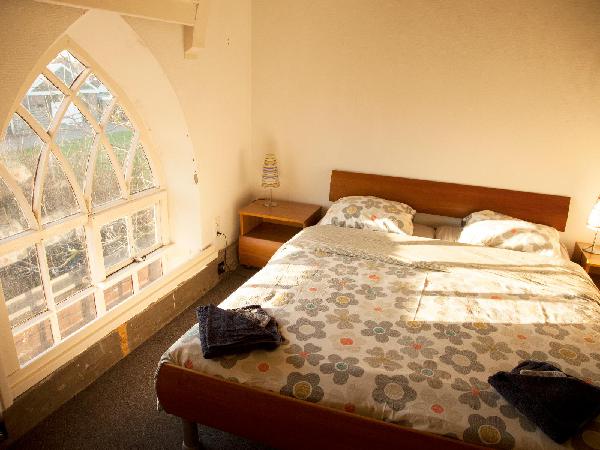 One of the bedrooms with a double bed.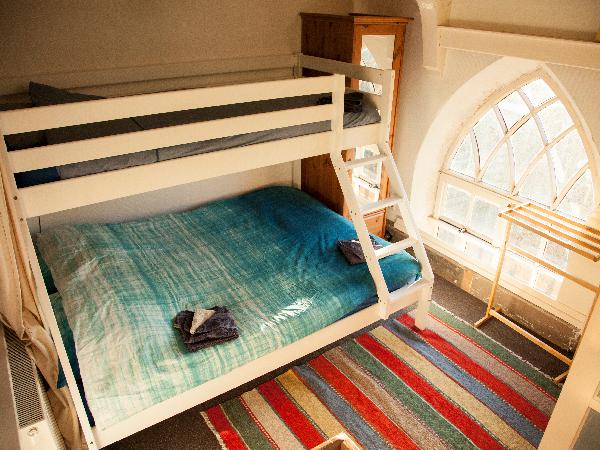 A double bed with an extra top sleeper.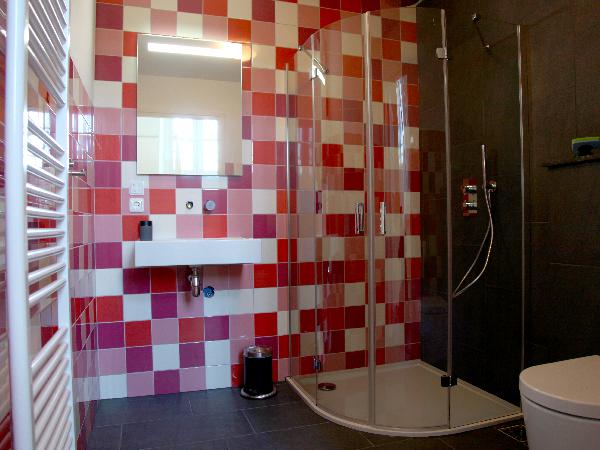 The three bathrooms each have their own character.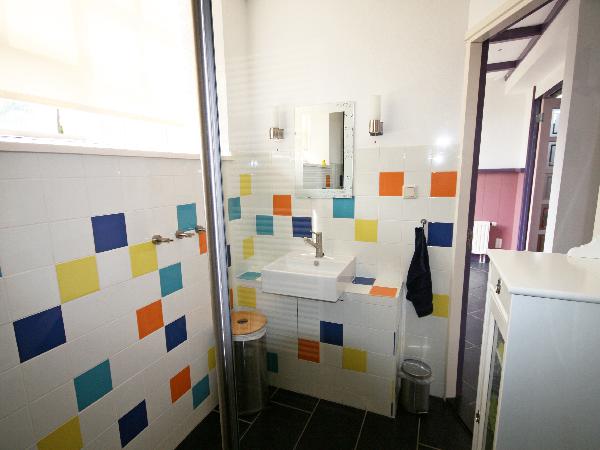 The three bathrooms each have their own character.